Knowing Yourself.
Managing Yourself.
Transforming Yourself.
Become the leader you aspire to be
You are
leader, entrepreneur, decision maker, professional, someone in charge who has wide reaching influence. Change is constant for you. You expect the unexpected.
Now you are facing a different challenge. Your credibility is at stake. You need clarity, an objective point of view and new inspiration. You want to sharpen your skills. You want to shape your vision and strategy. You want to drive initiatives.
You are looking for a coach and advisor, someone with integrity, with whom you can talk at eye level. Someone with intuition and experience, someone who challenges and encourages you.
I offer you
C-suite level Coaching and Advisory. It's about your leadership journey, about your identity and mindset. It's a process that begins by thoroughly reflecting on what got you here and helps you to explore where to go next.
I'm looking forward to helping you
gain clarity and find your own answers,
define your next goals, in line with your ambition,
heighten your awareness of your values, talents, strengths,
hold yourself accountable for reaching your goals.
I offer Coaching and Advisory with a focus on three success factors:
Knowing Yourself. Managing Yourself. Transforming Yourself.
I am
Christian Greiser, an Executive Coach and Advisor. I draw on 30 years of coaching, strategy consulting and line management experience.
As a Senior Partner at the Boston Consulting Group (BCG) I was globally responsible for a billion dollar Practice, advised multinational corporations and coached executives up to board level. Prior to joining BCG, I held positions as a Project Director and Product Manager in Engineering with Mannesmann AG.
I studied in Braunschweig, Paris and London. I'm a certified Executive Coach and a member of the Institute of Coaching (McLean/Harvard Medical School).
My differentiation
I combine
intuition and a feeling for people topics,
with a senior strategy consultant perspective
and global leadership experience.
I offer Executive Coaching at C-Suite level.
"Christian is committed and professional, with a deep understanding, and the right balance of proximity and distance. He is not problem but far more solutions oriented; a true listener with own personality, who gets the best out of you."
(DAX board member, Germany)
"Christian's advice, coaching and thoughts have transformed my understanding of my role as a CEO and made me reflect on my personality in a new and powerful way."
(CEO Consumer Goods Company, New York)
"Christian's perceptive questions and continuous probing made me challenge my existing leadership paradigms and completely redefine my leadership role within my organization."
(CEO & Entrepreneur, Germany)
Advisory Services
How can I help you?
With an inspirational and thought provoking conversation?
With an objective point of view regarding your talents and strengths?
With an independent voice and second opinion on your agenda?
With approaches to expand your portfolio of distinct leadership styles?
Or with individually tailored questions?
Executive Coaching
1:1-Coaching
Executive coaching with a focus on leadership and personal development, in a confidential setting with no agenda, usually over 6 to 8 months across several sessions. Often in the context of organizational change, to support onboarding or to facilitate career transition.
Team Coaching
Strengthening of executive and leadership teams, incl. analysis of team performance and role mandates, as well as building trust, conflict capability, commitment, accountability, outcome orientation.
Strengths Diagnosis
Personality Diagnostics
Diagnosis and evaluation of personality traits, such as preferences, talents, signature strengths, self and external perception. Application of psychometric tools, such as
Myers-Briggs (MBTI)
Values in Action (VIA)
Clifton Strengths
Strengths Profile
Hogan Assessment
360 Grad Feedback
Leoncini Team Assessment
Purpose Discovery
Discovering your personal Purpose as a source of inspiration and as a basis for leading others. Finding the answer to the personal "Why".
CEO Advisory
CEO Advisory
Experienced second opinion on
markets, growth potential and strategy,
organization, processes and productivity improvement (incl. digitalization),
management structure (board, executive committees, etc.), roles and responsibilities, steering mechanism, incentives, corporate culture,
agility and organizational resilience.
Virtual Leadership
Virtual Leadership
Effective leadership of virtual, global teams, incl.
team set-up and control,
effective communication,
orientation, resilience, motivation, maintaining team spirit,
Do´s & Don´ts, Day-to-Day-Team-Management,
Best Practices.
About Myself
Helping others grow is my passion. My approach is informed by my own leadership experience and by an extensive coaching training.
I've coached and advised executives up to C-suite level for 20 years. My clients cover many different industries, including steel, energy, automotive and consumer goods.
As a Managing Director and Senior Partner at the Boston Consulting Group (BCG) I have advised large corporations and private equity firms in value creation strategies. I was a member of the firm's leadership team and globally responsible for the Operations & Industry 4.0 Practice, which during this period grew into BCG's first ever billion dollar Practice.
I also leverage my experience from being an active BCG career development leader on committees for partner evaluation, as well as being the former head of BCG recruiting. I've learned about the power of investing in people.
Prior to BCG, I spent 8 years with Mannesmann AG in machinery and plant engineering. I held positions as a Project Director and Product Manager, was in charge of a business unit, took a leading role in a large reengineering program and introduced lean-production.
I earned a Dipl.-Ing. degree in aerospace engineering from the University of Braunschweig and Université de Bordeaux and have an MBA from ESCP in Paris.
I'm a graduate of the Mastered Executive Coaching Program of Meyler Campbell in London and a member of the Institute of Coaching (McLean/Harvard Medical School). I'm certified with the Worldwide Association of Business Coaches (WABC).
My family and I live near Düsseldorf. I recharge by reading books and playing the drums, often jazz. Regular meditation has been a source of energy for me for 15 years. I'm the co-founder of a global mindfulness network with more than 1000 members. This experience is also reflected in my coaching. For me it's the "ZEN in KAI-ZEN", the Japanese philosophy of continuous improvement, that informs my life and my way of thinking. I also write on this topic.
Remove, Replace, Restart
– The Essential Maintenance Manual for Your Engine for Success
Published October 10, 2023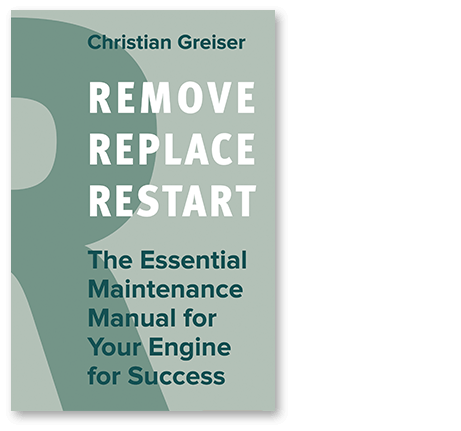 Booktrailer "Remove, Replace, Restart"
Remove, Replace, Restart offers a highly relatable and practical guide for all of us to reflect on our careers and take action to make "work" work.
—Christoph Schweizer, Chief Executive Officer, Boston Consulting Group
A fresh and welcome addition to the resources available to those of us who might otherwise flounder in the face of career challenges and crises.
—Guy Ashton, Chief Executive Officer, Meyler Campbell
Every leader goes through transitions in his or her life. This book is a wise and practical guide to navigating these transitions successfully.
—Harish Bhat, Brand Custodian, Tata Sons; marketer, author, and columnist
Have you ever felt like you're treading water professionally, having reached the limits of what you can achieve? If so, it might be time for a reset. Careers progress through distinct phases: you climb the career ladder, change direction or start your own business, and eventually retire. As different as these phases are, so too are the rules of success that govern them. To keep succeeding, you must mentally shift gears and realign yourself accordingly along the way.
Passionate "career technician" Christian Greiser is here to help you do just that. In this engaging and humorous new book, he draws on insights from his many years of experience as an executive coach and incorporates research findings, case studies, and exercises to show how you can shift your mindset to achieve success and fulfillment in the next phase of your career.
Please accept YouTube cookies to play this video. By accepting you will be accessing content from YouTube, a service provided by an external third party.
If you accept this notice, your choice will be saved and the page will refresh.
CHRISTIAN GREISER
LEADERSHIP & MANAGEMENT ADVISORY
Düsseldorf, Germany
Change
yourself and
everything
around you
will change.